I'm obsessed with candles. Specifically, scented candles. The kind that stank up your house like you've been running a bakery or making professional floral arrangements out of your home. I just do. And I like my candles to be seasonally specific. I'm actually kind of insane about it. Fun fact.
Consider this my version of a public service announcement, which I feel like my new surroundings warrant more than ever. Pregnancy hormones coupled with homesickness and general me-style rage have ended in a rampage through every known possible retailer and purveyor of scented wax in the country.
I've been writing these little blurbs seasonally for years because it's a particular personal passion of mine, and a joke between myself and a friend. I cannot understand, for instance, how anyone - ANYONE - could see the logic in burning a peach scented candle in the middle of January, or a Japanese cherry blossom wax melt in October. It baffles me. Also, "Amber"? That's not a smell, it's a rock. Come on, enough with the generic scents that make your bedroom smell like a middle aged men's clothing store.
Since relocating internationally, I have massively struggled to find ANY scents that are seasonally specific, because apparently "that's not a thing here". Do you know what is a thing? Ridiculously expensive imported Yankee Candles. And I cannot support my habit if I have to resort to them. So let me enlighten everyone that I possibly can, and maybe we can all avoid nasally offending each other this year.
They apply to everyone, and I mean everyone, so please, for my sanity, follow these recommendations. It's basic logic. Don't let me down.
So, here are the guidelines for this particular time of year, which I typed up in... lemme have a look here... 2010? You need to know.
August-September Transition
This is probably the second most highly anticipated candle season, next to waiting for it to be pine-sap-on-my-shoe season.
Let us highlight the key acceptable transition scents until September 15th, beginning on August 15th
:
-Hazlenut, Hazlenut cream, and all variations of nut scents that do not involve cinnamon or clove notes.
-Warm vanilla, Vanilla Sugar, Buttercream Icing. *Sugar cookie is not acceptable*
-Dark Berry Pie Scents
-Caramel
-Pecan and Pecan Pie
-Peach Cobbler (peaches ripen late in summer, so this scent is acceptable. Springy peach scents that resemble a Bath & Body works fragrance from the early 1990's are not acceptable)
-Banana Nut Bread (although this scent will undermine all diet plans. This is a fact)
-Cinnamon Bun
-Black Cherry
-Coffee scents
It is time to retire the following until after the holidays:
-Downy
-Beach scents
-Anything white that is not vanilla
-Green scents that resemble a mixture of cut grass and laundry detergent
-Country Breeze, Country Linen, and anything else with a picture of laundry on a clothesline on the sticker.
I'm sorry if you have a half-burnt Fresh Linen jar on the table, but just think, it's almost pumpkin time!
If you, like myself, are stranded in the UK with no sign of anything nasally pleasing in sight, adopt my new strategy: to buy candles on clearance a year in advance, per season. My husband is going to love that I'm accumulating more crap. But I digress...
Here are a few examples of some candles on my shopping list this month: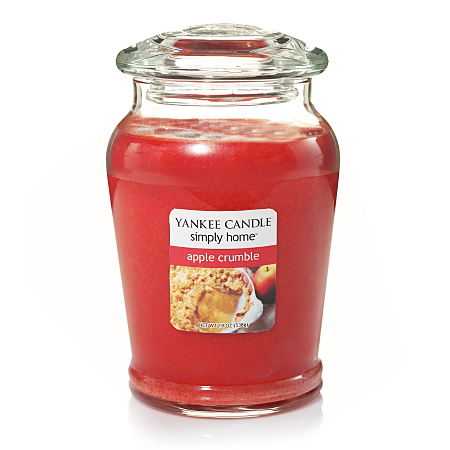 This will be like, my payday treat if I get it, and I won't be allowed to buy any more candles for a month.
This sounds like exactly what I need, except its £4 for a tiny little bathroom-sized tin. In a pinch, and on sale, I bet it would satisfy my baked goods scent craving if nothing else can be found.
It's my party and I'll cry if I want to. I feel like that should be the name of all Voluspa candles. If I win the lottery someday, my home will be full of them, and you'll know it from about a mile away. I don't even know what this scent actually is, I just love them all and I'm guessing it will be OK for this time of year, based on the color alone.
That's pretty much all I've found so far. I know of a store or two that imports Village Candles, and that's an option, but once again import = expensive. I might as well splurge on Yankee. I just can't wrap my head around it. Last year, Febreeze released a few seasonal scents around Thanksgiving/Christmas time, so I'm crossing my fingers that they pop up again. They're quite small, though, so they don't hold up for long when they're burnt every day, but they definitely pack a smell factor, in the best possible way.
If you're a UK candle lover and you know where to go for (cheaper) seasonal scented candles, please drop me a line in the comments below! I'm desperate over here!!!